Home and the Home-Maker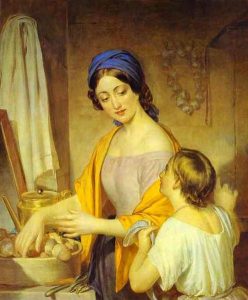 By J. M. Judy
Recently a London magazine sent out 1,000 inquiries on the question, 'What is home?' In selecting the classes to respond to the question it was particular to see that every one was represented. The poorest and the richest were given an equal opportunity to express their sentiment. Out of eight hundred replies received, seven gems were selected as follows:
"Home—A world of strife shut out, a world of love shut in.

"Home—The place where the small are great and the great are small.

"Home—The father's kingdom, the mother's world, and the child's paradise.

"Home—The place where we grumble the most and are treated the best.

"Home—The center of our affection, round which our heart's best wishes twine.

"Home—The place where our stomachs get three square meals daily and our hearts a thousand.

"Home—The only place on earth where the faults and failings of humanity are hidden under the sweet mantle of charity."
Dr. Talmage defines home, as "a church within a church, a republic within a republic, a world within a world." Dr. Banks writes, "It is not granite walls, or gaudy furniture, or splendid books, or soft carpets, or delicious viands that can make a home. All of these may be present, and yet it be only a dungeon, if the great simplicities are not there." Sings one:
"Home's not merely roof and room,
Needs it something to endear it.
Home is where the heart can bloom,
Where there's some kind heart to cheer it.

Home's not merely four square walls,
Though with pictures hung and gilded,
Home is where affection calls,
Filled with charms the heart hath builded.

Home! Go watch the faithful dove
Sailing 'neath the heavens above us,
Home is where there's one to love,
Home is where there's one to love us."
We believe the five sweetest words in the English language to the largest number of persons—words which carry with them intrinsic meaning and blessing are these: "Jesus," "Mother," "Music," "Heaven," "Home." "Twenty thousand people gathered in the old Castle Garden, New York, to hear Jennie Lind sing. After singing some of the old masters, she began to pour forth 'Home, Sweet Home.' The audience could not stand it. An uproar of applause stopped the music. Tears gushed from thousands like rain. The word 'home' touched the fiber of every soul in that immense throng." In an early spring day, when the warm sun began to invite one to bask in his rays, my wife, delicate in health, lay drowsing on some boards near the house. The large garden spot spread out to the rear of her; a beautiful grassy lawn carpeted round a deserted house, granary, and shop-building in front of her. She was living over her girlhood days. She thought she was in the old home orchard, where she used to doze, dream, and play. The songs of the birds seemed the same; the same gentle breezes played with her hair; the same passers-by jogged along the roadside; the same family horse nibbled the tender grass in the barnyard. How sad, and yet how sweet are the memories of early days! The tender associations of home never leave one, however roughly the coarse hand of time would tear them away. It is because home means love that its associations and lessons remain.
ESSENTIALS TO A HAPPY HOME.
Although home means love, yet love alone may not insure happiness. In addition to love, without which a true home can not exist, we select four essential requisites to make home life useful and happy. These are intelligence, unselfishness, attractiveness, and religion.
First, Intelligence. Much of the misery of the world in individual and family life is due to gross ignorance. Once the father of a family said to me, "We did not get our mail to-day, I miss my reading." Knowing the man we were surprised at such a remark, and ventured to ask him what papers he took. A list of ten or a dozen papers was named. All of them were newspapers. One was a general daily, two were local dailies, and the rest were local weekly papers. No intelligent person would have carried over three of those papers from the post-office. This man spent hours upon a class of reading that should be finished with a few minutes each day. In this same family the mother told me that she had never rode on a railway train, and that she had never been outside of her own county. This is an exceptional case, but it illustrates how that ignorance makes thrift and happiness impossible in a home, neither of which belong to this family. Here every law of health is violated, foresight in providing for the physical comforts of the home is wanting; little attention is given to the education of the children; no sacrifices to-day enrich to-morrow; life is a humdrum, a routine, a dread, with no exuberance, joy, or hope. In time, such a life leads to failure and gloom, to secret, then to open vice, and to a final shipwreck of the home and of the individual. In a similar yet in a less marked way, the career of many a home is ended. No one may be directly to blame, but want of common knowledge and common wit have set a limit beyond which such a family may not go. The intelligent family has some sort of a history which it is their privilege and duty to perpetuate. Members of the intelligent family are moral sponsors for one another, the mother for the daughters, the father for the sons, the brothers and sisters for one another. They find their own best interests in the interests of one another. The intelligent family is not superstitious. They act upon the wisdom of the ancient poet, "every one is the architect of his own fortune." They look to cause and condition for results. They spell "luck" with a "p" before it. The intelligent farmer plants his crop in the ground, rather than in the moon, and looks for his harvest to the seed and the toil. The intelligent merchant locates his business on the street of largest travel and makes the buying of his goods his best salesman. The intelligent man of letters thrives at first by making friends of poverty and want, until one day his genius places his name in the temple of honor. So it is with the artist, the musician, the inventor, the architect. To be happy and useful in one's lot, one must know something of the sphere in which he lives and works, of its practical wisdom, and must be prepared to live, or glad to die for the cause he serves. No indolent, superstitious, or ignorant family need look for abiding happiness nor expect to be permanently useful.
Then unselfishness is essential to happy home life. It is a serious matter for two persons, even when they are naturally mated, to undertake to live together in peace and harmony. It is a more serious matter when they are not naturally mated. It is more serious still when children enter the home, for they bring with them conflicting tendencies, dispositions, and wills. Often have we wondered how it is that families get on as well together as they do when we have considered, what natural differences exist between them, and what little teaching and discipline have been used to harmonize these differences. An harmonious home is truly begun in the parental homes of the husband and wife. Two persons may be perfectly suited to one another, and yet they may be selfish in wanting their own way. As one grows up, if he is allowed to have his own way regardless of the rights and privileges of others, he becomes a selfish person, and his parents are to blame. A selfish person in the home plans for his own comfort, decides and acts as he wishes, and seeks to satisfy his own desires. He does not take into consideration the plans, wishes, and desires of other members of the family. It is understood that his authority is supreme. Not one member of the family dreams of expressing dissent to his dominion. A so-called peace of this sort is not uncommon among families. This supreme authority may be vested in husband, or wife, or in one or all of the children. A forced peace of this kind is worse than rebellion and is as bad as open war. How can any persons be so presumptuous as to think that any person, or a number of persons, exist solely for his comfort and advantage! Let two such selfish persons get together, a permanent riot is assured. Unselfishness in the home means thoughtfulness, discipline, self-control. Each child is taught the rights and privileges of others as well as his own. When two unselfish persons join their lives there begins a holy and beautiful rivalry in seeking the rights and privileges of one another. The very atmosphere of such a home is deference, respect, and love. As the stranger, the neighbor, the friend, comes and goes, he catches the spirit of it and carries it with him into his own and other homes. Children born into such a home early imbibe its spirit, and, O, the inspiration one receives from going into that family circle! No home-life can be an inspiration and a blessing where selfishness is allowed to reign. Nor can it be useful and happy.
Ella Wheeler Wilcox describes a selfish, though a kind and loving husband:
THEIR HOLIDAY.
THE WIFE:
Our house is like a garden—
The children are the flowers,
The gardener should come, methinks,
And walk among his bowers.

So lock the door of worry,
And shut your cares away,
Not time of year, but love and cheer,
Will make a holiday.

THE HUSBAND:
Impossible! You women do not know,
The toil it takes to make a business grow:
I can not join you until very late,
So hurry home, nor let the dinner wait.

THE WIFE:
The feast will be like Hamlet,
Without the Hamlet part;
The home is but a house, dear,
Till you supply the heart.

The Christmas gift I long for
You need not toil to buy;
O, give me back one thing I lack:
The love-light in your eye.

THE HUSBAND:
Of course I love you, and the children, too.
Be sensible, my dear. It is for you
I work so had to make my business pay;
There, now, run home, enjoy your holiday.

THE WIFE, TURNING AWAY:
He does not mean to wound me,
I know his heart is kind,
Alas, that men can love us,
And be so blind—so blind!

A little time for pleasure,
A little time for play,
A word to prove the life of love
And frighten care away—
Though poor my lot, in some small cot,
That were a holiday.
To preserve the family circle, the home must be made attractive. No amount of practical wisdom, of Puritanic piety, nor mere kindly treatment will hold a family of children together until they are strong enough to resist the temptations of the world. The home must be made more attractive than the street or places of amusement. The average boy or girl who loses interest in home and uses it chiefly as an eating and sleeping place, does so with good reasons. Home has lost its charm. No provision is made for his pastime and pleasure. Not finding this at home he will go elsewhere in search of it. "An unattractive home," says one, "is like the frame of a harp that stands without strings. In form and outline, it suggests music, but no melody arises from the empty spaces; and thus it is an unattractive home, is dreary and dull." How may home be made attractive? We have presupposed a certain amount of education and culture in the home by maintaining for it intelligence and unselfishness. Any home that is intelligent and unselfish is capable of being made attractive. In the first place, in as far as it is practicable, each member of the family should have a room of his own and be taught how to make it attractive. Here, one will hang his first pictures, start his own library, provide a writing desk, and learn to spend his spare moments. Recently we visited a home in Chicago. The rooms are few in number and hired. The family consists of father, mother, and three children, now grown. During our short stay in the home I was invited into the boys' room. The walls are literally covered with original pencil designs, queer calendars, odd pictures; the dresser and stand are lined with books and magazines, with worn-out musical instruments, art gifts from other members of the family, and ball-team pictures, while two lines of gorgeous decorations stretch from wall to wall. This is still these young men's little world, their interests have centered here. No less than five kinds of musical instruments were visible in this home. The walls of the living room and parlor are made beautiful with simple tasteful pictures made by the daughter, whose natural gift in art was early cultivated. The table, shelves, and mantelpiece are decorated with china bowls, plates, and vases, simply, yet elegantly adorned. This work was done by the daughter and mother. Not a large but a choice collection of flowering plants relieved the bay window of its emptiness. This is an attractive home. The children never have cared to spend their evenings on the street nor at places of amusement. Games of skill, innocent, instructive, and entertaining, may be used to make home life more attractive. Only let the amusements of the home be under the direction of father and mother, and be practiced by them. Here is a chance to teach shrewdness, honor, interest, and by all means, moderation. To overdo at games and amusements is more harmful than to overwork.
Religion is essential to happy home life. A family may get on for a time very smoothly without prayer, Bible study, faith in God, and love for Jesus Christ; but no family life is completed without a storm, many storms of some sort. Years may pass as on a quiet sea, but one day at high noon, or, perhaps, in the silent, early hour, a small cloud is seen in the distance; it comes nearer; the wind begins to blow, the thunders peal, the lightnings flash, the old home, for so long an ark of safety, is being tossed on the billowy waves. A testing time is at hand. Mother is gone, or father has ventured too far and lost all; or son has disgraced the family name; or daughter is in shame; or the darling of the home is no more! It makes a vast difference who is at the helm when the storms of home life rage. It is a mark of highest wisdom to place the family ship under the world's best Captain, Jesus Christ. He never lost a life. He alone can arrest the lightning, quiet the waves, inspire confidence, and restore peace and good will in any storm. But religion is not only useful in trouble, it is an ornament in peace and prosperity, in the making and building of the home. Tempers must be controlled, dispositions cultivated, conduct improved, hearts softened, and minds purified and disciplined. To accomplish all of this, no substitute can be made for the spirit and faith of Jesus Christ.
"'Dear Moss,' said the thatch on an old ruin, 'I am so worn, so patched, so ragged, really I am quite unsightly. I wish you would come and cheer me up a little. You will hide all my infirmities and defects; and, through your loving sympathy no finger of contempt or dislike will be pointed at me.' 'I come,' said the moss; and it crept up and around, and in and out, till every flaw was hidden, and all was smooth and fair. Presently the sun shone out, and the old thatch looked bright and fair, a picture of rare beauty, in the golden rays. 'How beautiful the thatch looks!' cried one who saw it. 'How beautiful the thatch looks!' said another. 'Ah!' said the old thatch, 'rather let them say, 'How beautiful is the loving moss!'" So it is with the religion of Christ, it adorns and beautifies the life who really wears it; so that the plainness of that life is covered, its ruggedness softened, and its "pain transformed into profit and its loss into gain."
Charles M. Sheldon gives as an essential for a permanent republic, "A true home life where father, mother, and children spend much time together; where family worship is preserved; where honesty, purity, and mutual affection are developed."
J.R. Miller beautifully sums up the secret of happy home-making in one word—"'Christ.' Christ at the marriage altar; Christ on the bridal journey; Christ when the new home is set up; Christ when the baby is born; Christ when the baby dies; Christ in the pinching times; Christ in the days of plenty; Christ in the nursery, in the kitchen, in the parlor; Christ in the toil and in the rest; Christ all along the years; Christ when the wedded pair walk toward the sunset gates; Christ in the sad hour when the farewells are spoken, and one goes on before and the other stays, bearing the unshared grief. Christ is the secret of happy home life."
THE HOME-MAKER.
Just as a surly husband, a dissipated father, or a reckless son may blight a home and destroy its happiness, so may a thoughtful, virtuous, and kind man in the home change its very atmosphere and help to make it a heaven. As a home-maker man has the ruggeder part. It is his to provide. The man who falls short of this in the home does not do his part. No woman can respect a man much less love him, who places her, her work, her life, her home, her world under constant embarrassment by a scant and niggardly provision. She loses her ambition, ceases to make her self and her home attractive; disorder, filth, unwholesome food, lack of spirit on her part is the result. She can not be to him, most of all, what he expects her to be, a companion, a counselor, a comfort—a home-maker. Also, it is the part of the man in the home to shield the woman from the heavier burdens and responsibilities. Let him count the cost of his enterprises, secure himself against hazardous speculations, and give his wife and children to realize that his shoulders, and not theirs, are to bear the load of financial obligation and material support. This leaves the woman with her finer instincts and sensibilities to make the home the dearest spot on earth to husband, children, and to all who cross her threshold. The house is her dominion. There she is queen. What a tender and beautiful one she may become!
SOME PRACTICAL HINTS.
The true home-maker does not spend all of her time with her ducks, chickens, pigs, and cows, nor yet with her neighbors, her club, nor her Church. She finds some time to cultivate her intellectual nature and the finer feelings of her children. She does not degenerate into a mere household drudge. She is not the slave of her husband, but his companion. If she has musical ability, she keeps up the practice of her music; if she is inclined to literature, she reads some every day. Whether literary or not, every woman should spend some time each day in reading that she might keep abreast with the world, at least with her companion, in the movements and thoughts of every-day life. The true home-maker plans to have a few minutes each day which she calls her own, in which she may do as she pleases regardless of call or duty, that she might relax herself, remove the strain of intense effort, rest, give her nature its free bent and inclination. It will pay her in every way. She will accomplish more and better work in the busy hours. A spirit and a force will characterize every effort. The women of to-day are overworked. They can not do themselves, their families, not their homes the true spiritual service that it is their part to do. Plan for a few minutes rest with the daily routine of care. But how is one to do this with so many demands made upon her? For she is expected to be seamstress, laundress, maid, cook, hostess, a companion to her husband, a trainer of her children, a social being, and a helper in the Church. If it is impossible or impracticable for one to have a servant, she will find these few minutes for daily recreation and study only in a wise choice of more important duties, and will allow the less important ones to go undone. Many housewives could well afford to keep a helper. It becomes a question which is of greater importance, the life and health of the wife and mother, or the paltry wages of a servant? We knew a family in Illinois who were quite able to keep help in the home, but did not do so. The mother made a slave of herself, in a few years broke in health, and left a large family of small children to struggle alone in the world. The stepmother, who soon came into the home, could afford one servant girl and part of the time two. This is a common experience in ill-managed homes. Or this question arises, Which is of greater importance, to make more money or to improve the moral tone of the home; to seek to gratify the outer senses, or to seek to elevate the spiritual life of the children and the parents? In pleading for rest and study for the mother in the home we plead for the highest interests of the entire family. For how can a wife be a companion to a husband when she is made irritable and nervous from overwork and worry. How can she be a true mother to her children and neglect their mental and spiritual growth?
Napoleon once said: "What France wants is good mothers, and you may be sure then that France will have good sons." Thomas McCrie, an eminent Scotch preacher, used to tell, with great feeling, of how his mother, when he was starting out for school in the city, accompanied him along the road a little way, and then leading him into the field where she could be alone, prayed with him, that he might be kept from sin in the city, and become a very useful man. That moment was the turning point in his life. A few minutes a day spent with the eager, susceptible child mind, will bring everlasting blessing upon the father and mother.
*******
This is taken from Questionable Amusements and Worthy Substitutes.
Of related interest:
The Knights of Columbus website has a free pdf by Dwight Longenecker entitled Saint Benedict for Busy Parents, accessible at http://www.kofc.org/en/resources/cis/cis327.pdf