The Mystic Will
A METHOD OF DEVELOPING AND STRENGTHENING
THE FACULTIES OF THE MIND,
THROUGH THE AWAKENED WILL,
BY A SIMPLE, SCIENTIFIC PROCESS
POSSIBLE TO ANY PERSON OF ORDINARY INTELLIGENCE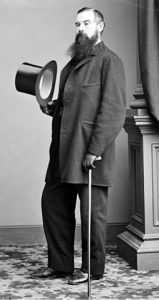 BY
CHARLES G. LELAND

"Unto many Fortune comes while sleeping." — Latin Proverb.
"Few know what is really going on in the world." —American Proverb.
It is but a few years since it suddenly struck the gay world of comic dramatists and other literary wits, that the Nineteenth Century was drawing to an end, and regarding it as an event they began to make merry over it, at first in Paris, and then in London and New York, as the fin-de-siècle. Unto them it was the going-out of old fashions in small things, such as changes in dress, the growth of wealth, or "the mighty bicycle," with a very prevalent idea that things "are getting mixed" or "checkered," or the old conditions of life becoming strangely confused. And then men of more thought or intelligence, looking more deeply into it, began to consider that the phrase did in very truth express far more serious facts. As in an old Norman tale, he who had entered as a jester or minstrel in comic garb, laid aside his disguise, and appeared as a wise counselor or brave champion who had come to free the imprisoned emperor.
For it began to be seen that this fin-de-siècle was developing with startling rapidity changes of stupendous magnitude, which would ere long be seen "careering with thunder speed along," and that all the revolutions and reforms recorded in history were only feeble or partial, scattered or small, compared to the world-wide unification of human interests, led by new lights, which has begun to manifest itself in every civilized country. That well nigh every person or real culture, or education guided by pure science, has within a very few years advanced to a condition of liberal faith which would have been in my university days generally reprobated as "infidelity," is not to be denied, and the fact means, beyond all question, that according to its present rate of advance, in a very few years more, this reform will end in the annulling of innumerable traditions, forms of faith and methods. Upharsin is writ on the wall.
More than this, is it not clear that Art and Romance, Poetry and Literature, as hitherto understood or felt, are either to utterly vanish before the stupendous advances of science, or what is perhaps more probable, will, coalescing with it, take new forms, based on a general familiarity with all the old schools or types? A few years ago it seemed, as regarded all esthetic creation, that man had exhausted the old models, and knew not where to look for new. Now the aim of Art is to interest or please, by gratifying the sense or taste for the beautiful or human genius in making; also to instruct and refine; and it is evident that Science is going to fulfill all these conditions on such a grand scale in so many new ways, that, when man shall be once engaged in them, all that once gratified him in the past will seem as childish things, to be put away before pursuits more worthy of manly dignity. If Art in all forms has of late been quiet, it has been because it has drawn back like the tiger in order to make the greater bound.
One of the causes why some are laying aside all old spiritualism, romance and sentiment, is that their realization takes up too much time, and Science, which is the soul of business, seeks in all things brevity and directness. It is probable that the phrase, "but to the point," has been oftener repeated during the past few years, than it ever was before, since Time begun, of which directness I shall have more to say anon.
And this is the end to which these remarks on the fin-de-siècle were written, to lay stress upon the fact that with the year Nineteen Hundred we shall begin a century during which civilized mankind will attain its majority and become manly, doing that which is right as a man should, because it is right and for no other reason, and shunning wrong for as good cause. For while man is a child he behaves well, or misbehaves, for reasons such as the fear of punishment or hope of reward, but in a manly code no reasons are necessary but only a persuasion or conviction that anything is right or wrong, and a principle which is as the earth unto a seed.
For as the world is going on, or getting to be, it is very evident that as it is popularly said, "he who will tell a lie will generally not hesitate to commit perjury," so he who cannot be really honest, per se, without being sustained by principle based only on tradition and the opinion of others, is a poor creature, whose morality or honesty is in fact merely theatrical, or acted, to satisfy certain conditions or exigencies from which he were better freed.
This spirit of scientific directness, and economy of thought and trouble by making the principle of integrity the basis of all forms, and cutting all ethical theories down to "be good because you ought," is rapidly astonishing us with another marvelous fact which it illustrates, namely, that as in this axiom as in man himself there are latent undiscovered powers, so in a thousand other sayings, or things known to us all, used by us all, and regarded as common-place, there are astounding novelties and capacities as yet undreamed of. For, as very few moralists ever understood in full what is meant by the very much worn or hackneyed saying, "we ought to do what is right," so the world at large little suspects that such very desirable qualities as Attention, Interest, Memory and Ingenuity, have that within them which renders them far more attainable by man than has ever been supposed. Even the great problem of Happiness itself, as really being only one of a relative state of mind, may be solved or reached by some far simpler or more direct method than any thinker has ever suggested.
It all depends on exertion of the Will. There are in this world a certain number of advanced thinkers who, if they knew how to develop the Will which exists in them, could bring this reform to pass in an incredibly short time. That is to say, they could place the doctrine or religion of Honesty for its own sake so boldly and convincingly before the world that its future would be assured. Now the man who can develop his will, has it in his power not only to control his moral nature to any extent, but also to call into action or realize very extraordinary states of mind, that is, faculties, talents or abilities which he has never suspected to be within his reach. It is a stupendous thought; yes, one so great that from the beginning of time to the present day no sage or poet has ever grasped it in its full extent, and yet it is a very literal truth, that there lie hidden within us all, as in a sealed-up spiritual casket, or like the bottled-up djinn in the Arab tale, innumerable Powers or Intelligences, some capable of bestowing peace or calm, others of giving Happiness, or inspiring creative genius, energy and perseverance. All that Man has ever attributed to an Invisible World without, lies, in fact, within him, and the magic key which will confer the faculty of sight and the power to conquer is the Will.
It has always been granted that it is a marvelously good thing to have a strong will, or a determined or resolute mind, and great has been the writing thereon. I have by me the last book on the subject, in which the faculty is enthusiastically praised, and the reader is told through all the inflexions of sentiment, that he ought to assert his Will, to be vigorous in mind, etcetera, but unfortunately the How to do it is utterly wanting.
It will be generally admitted by all readers that this How to do it has been always sought in grandly heroic or sublimely vigorous methods of victory over self. The very idea of being resolute, brave, persevering or stubborn, awakens in us all thoughts of conflict or dramatic self-conquering. But it may be far more effectively attained in a much easier way, even as the ant climbed to the top of the tree and gnawed away and brought down the golden fruit unto which the man could not rise. There are easy methods, and by far the most effective, of awakening the Will; methods within the reach of every one, and which if practiced, will lead on ad infinitum, to marvelous results.
The following chapters will be devoted to setting forth, I trust clearly and explicitly, how by an extremely easy process, or processes, the will may be, by any person of ordinary intelligence and perseverance, awakened and developed to any extent, and with it many other faculties or states of mind. I can remember once being told by a lady that she thought there ought to be erected in all great cities temples to the Will, so as to encourage mankind to develop the divine faculty. It has since occurred to me that an equal number of school-houses, however humble, in which the art of mastering the Will by easy processes seriatim should be taught, would be far more useful. Such a school-house is this work, and it is the hope of the author that all who enter, so to speak, or read it, will learn therefrom as much as he himself and others have done by studying its principles.
To recapitulate or make clear in brief what I intend, I would say Firstly, that the advanced thinkers at this end of the century, weary of all the old indirect methods of teaching Morality, are beginning to enquire, since Duty is an indispensable condition, whether it is not just as well to do what is right, because it is right, as for any other reason? Secondly, that this spirit of directness, the result of Evolution, is beginning to show itself in many other directions, as we may note by the great popularity of the answer to the question, "How not to worry," which is briefly, Don't! Thirdly, that enlightened by this spirit of scientific straightforwardness, man is ceasing to seek for mental truth by means of roundabout metaphysical or conventional ethical methods (based on old traditions and mysticism), and is looking directly in himself, or materially, for what Immaterialism or Idealism has really never explained at all his discoveries having been within a few years much more valuable that all that a priori philosophy or psychology ever yielded since the beginning. And, finally, that the leading faculties or powers of the mind, such as Will, Memory, the Constructive faculty, and all which are subject to them, instead of being entirely mysterious "gifts," or inspirations bestowed on only a very few to any liberal extent, are in all, and may be developed grandly and richly by direct methods which are moreover extremely easy, and which are in accordance with the spirit of the age, being the legitimate results of Evolution and Science.
And, that I may not be misunderstood, I would say that the doctrine of Duty agrees perfectly with every form of religion a man may be; Roman Catholic, Church of England, Presbyterian, Agnostic, or what he will; and, if a form aids him in the least to be sincerely honest, it would be a pity for him to be without it. Truly there are degrees in forms, and where I live in Italy I am sorry to see so many abuses or errors in them. But to know and do what is right, when understood, is recognizing God as nearly as man can know him, and to do this perfectly we require Will. It is the true Logos.